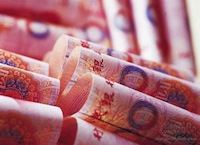 Beijing-based P2P (peer to peer) lending platform Jimubox.com has completed US$84 million series C round of financing led by U.K.'s specialist banking and asset management group Investec, according to a company announcement.
New investors Mandra Capital, Zhong Capital Fund, L.P. and Haitong Kaiyuan Investment Co., Ltd. also participated in the round.
Existing investors Matrix China Partners, Magic Stone Alternative, Xiaomi Inc., Shunwei Capital Partners, and Ventech China all invested as well.
Launched in August 2013, Jimubox.com received tens of millions U.S. dollars series A funding from Ventech China in Febuary 2014.
In September that year, it received US$37.19 million series B financing led by Xiaomi and Shunwei Capital.
As of the end of April, Jimubox.com has facilitated over RMB5.8 billion lending via its online platforms, with outstanding loans at RMB2.4 billion, according to the statement.