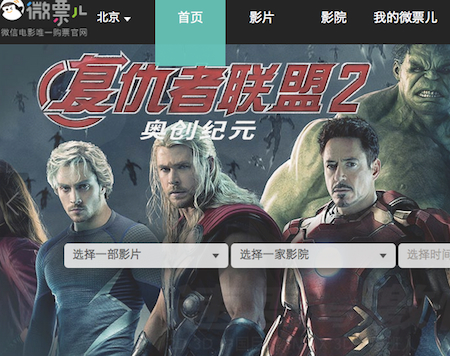 The operator of online movie ticket booking services platform Wepiao, Beijing Weiying Technology Co. Ltd., has completed US$105 million series B round of financing from Tencent Holdings Limited, Dalian Wanda Group, and other investors, according to Chinese media reports.
Founded in 2014 by Tencent, China Culture Industry Investment Fund, and Bison Capital, Beijing Weiying provides online booking and payment for movie tickets via mobile apps based on Tencent's Wechat and QQ platforms.
It also operates web portal, Wepiao.com.
Information on the company's previous funding rounds are not available.
The company cooperates with over 2000 movie theaters in China, including Wanda's cinema chains.
It plans to expand its services to other entertainment sectors, including online ticket booking for performances and sports events.
Founded in 2011, China Culture Industry Investment Fund targets to raise RMB20 billion (US$3.2 billion) to invest in the country's culture and media sectors.
The fund is backed by the Ministry of Finance, BOC International Holdings Limited, China International Television Corporation, and China (Shenzhen) International Cultural Industry Fair Co., Ltd.