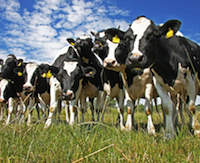 KKR & Co. and CDH Investments have agreed to sell their holdings in two joint venture dairy farms to China Modern Dairy, in exchange for a 9% stake in the Maanshan, Anhui province-based Chinese dairy firm, according to a regulatory filing.
China Modern Dairy is to acquire the 82% interest held by KKR and CDH in Success Dairy for HK$1.9 billion (US$245 million), and to make them its wholly owned subsidiaries.
In exchange, KKR and CDH will subscribe 477 million newly issued shares of Hong Kong-listed China Modern Dairy for HK$4 per share, or a 55% premium over the company's last closing price.
The share subscription will give KKR and CDH a combined 9% shareholding in China Modern Dairy.
In September 2013, KKR, CDH and China Modern Dairy said they would invest US$140 million over the following 18 months to build two dairy farms in Shanghe and Jinan in Shandong province.
KKR and CDH previously invested in China Modern Dairy in 2008, and sold most of their shareholdings to China Mengniu Dairy Holdings Ltd. in 2013.
China Mengniu Dairy currently owns 25.41% of China Modern Dairy as its largest shareholder.
(Correction: A previous version of this story mistakenly said KKR and CDH are paying for the 9% stake, instead of an asset-to-stocks exchange.)