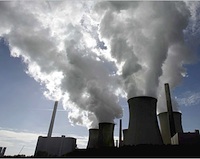 Jack Ma, executive chairman of Alibaba Group Holdings Limited, Neil Shen, founding managing partner of Sequoia Capital China, Zhang Xin and Panshiyi, founders of SOHO China are among over two dozens of world business leaders and investors to launch the Breakthrough Energy Coalition, an entity with a mission to invest in clean energy technologies.
The other backers include Microsoft founder Bill Gates, Facebook founder Mark Zuckerberg, Saudi Prince Alwaleed bin Talal, Virgin Group founder Richard Branson, and Ratan Tata, chairman emeritus of Tata Sons, according to the coalition's website.
A number of legendary investors also joined the founding group, including Julian Robertson, founder of Tiger Management, chairman of Soros Fund Management LLC George Soros, Khosla Ventures founder Vinod Khosla, founder of the Children's Investmnet Fund Chris Hohn, and Ray Dalio, founder of Bridgewater Associates.
According to the coalition's website, it will invest in ideas that have the potential to transform the way people produce and consume energy.
In a Facebook message, Mark Zeckerberg says that the "progress towards a sustainable energy system is too slow, and the current system doesn't encourage the kind of innovation that will get us there faster."
It's not immediately clear how the coalition plan to raise money and how it will invest in clean energy ideas.