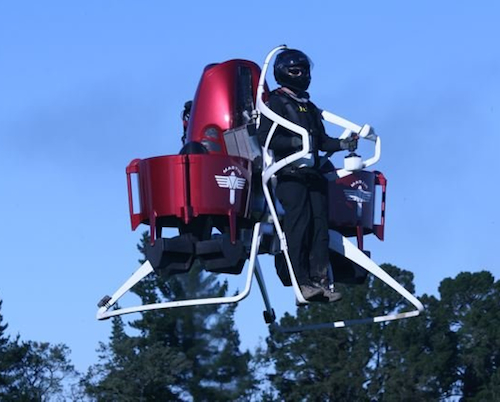 KuangChi Martin Jetpack Ltd, a start-up focused on commercializing manned jetpacks, has signed tentative agreements to sell 100 jetpacks and 20 simulators in China.
It signals a step towards full commercialization for KuangChi Martin Jetpack, a company jointly established by Shenzhen-based technology firm Kuang-Chi Innovative Technology Ltd and New Zealand-based Martin Aircraft Co., Ltd.
The agreements, revealed at the first public flight demonstration held in Shenzhen over the weekend, are subject to procurement contracts by 30 June 2016 which will include final purchase price and support for each of the packages.
China is one of the fastest growing markets for aviation. Recent civil aviation developments has seen previously off-limit airspace being opened up for civilian operations, says the announcement.
In 2014, Hong Kong-listed Kuang-Chi invested HK$279 million (US$36 million) to acquire 37.74% of Martin Aircraft.
Kuang-Chi's stake could be as much as 52% if it chooses to fully convert all its convertible shares and exercise its options.
Kuang-Chi has also appointed two directors to the board of Martin Aircraft, which is listed on the Australian Securities Exchange and supported by private investors.
The manned flying jetpack is now selling on JD.com at a retail price of RMB1.6 million (US$250,000).
The first public flight demonstration in Shenzhen on December 6, 2015: