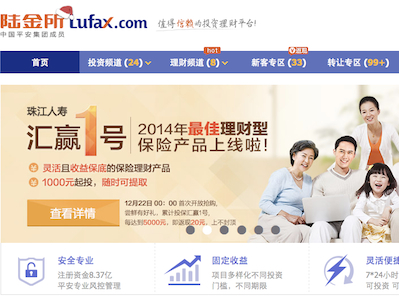 Chinese online financial services platform Shanghai Lujiazui International Financial Asset Exchange Co. Ltd., also known as Lufax, has completed US$900 million new round of financing last month with a post-money valuation of US$18.5 billion, according to an investor document obtained by Tencent Technology (in Chinese).
Lufax, established in 2011 with the support of the Shanghai municipal government and as a subsidiary of Ping An Insurance Company of China, Ltd., reportedly completed a US$500 million series A funding round in December 2014 at a post-money valuation of US$10 billion.
No information is available on the identities of the investors in the two financing rounds, though Ping An Insurance and Morgan Stanley were reportedly among investors in Lufax's latest financing round.
Lufax is expected to record revenues of US$706 million in 2015, up from US$100 million in 2014. Its estimated revenues for 2016 to 2018 is US$3.1 billion, US$6.2 billion and US$9.8 billion, respectively.
The company is expected to book a loss of US$415 million in 2015, with estimated loss declining to US$68 million in 2016. For 2017 and 2018, it is expected to make a profit of US$1.5 billion and US$3.5 billion, according to the document.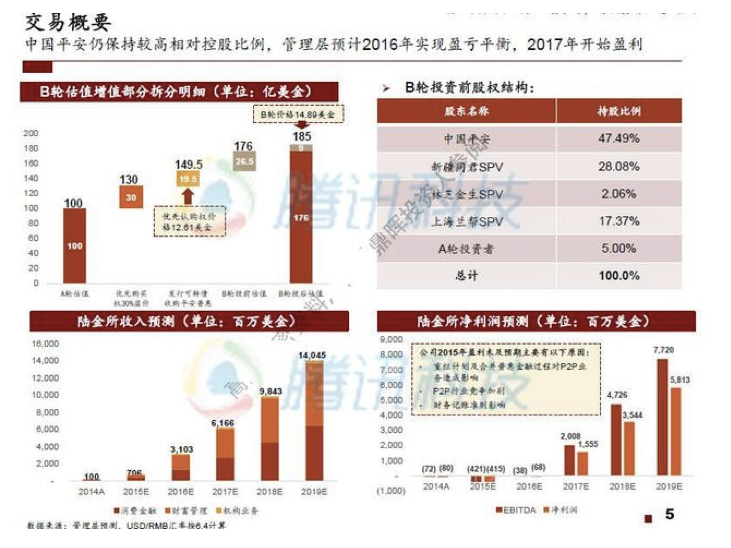 Ping An is the largest shareholder and owns 47.5% of Lufax before the series B financing round.
Lufax is planning to launch an initial public offering as early as the second half of 2016, says the reports.
Just a few days ago, Ant Financial Services Group, the financial services arm of Chinese e-commerce giant Alibaba Group Holding, is reportedly seeking at least RMB10 billion (US$1.5 billion) in a second round of financing ahead of a planned initial public offering this year as well.