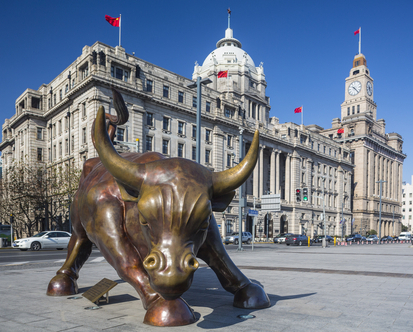 China's equity market has registered the best start of a year, raising a combined US$15.7 billion year-to-date through 41 follow-on share sales, equity-linked deals and initial public offerings, according to data tracker Dealogic.
The total dollar value is more than four times that of the same period last year, and follows the full year record high of US$114.0 billion raised via the equity markets in 2015.
Follow-on share sales accounted for 91% of total A-share volume with US$14.2 billion raised via 36 deals year-to-date, up from just US$1.4 billion in nine deals seen in 2015
Equity-linked issuance registered three deals and raising US$1.3 billion.
Two IPOs were priced in 2016 so far raising US$87 million.
Since China's IPO market resumed on November 6, 2015 after being suspended in early July, a total of 31 IPOs have priced, raising a combined US$2.0 billion, says Dealogic.
Finance continues to lead A-share equity market activities in 2016, with three deals raising a total of US$4.5 billion.
Bohai Leasing Co's US$2.5 billion A-share follow-on share sale, priced on January 7, is the biggest equity market deal globally so far in 2016.
GF Securities ranked as the number one A-share bookrunner in 2016 year-to-date, with a 22.2% market share, having finished 14th in the full year 2015 with 2.5% market share.
Sinolink Securities and CITIC Securities follow with a 10.1% and 9.5% share, respectively, year-to-date.