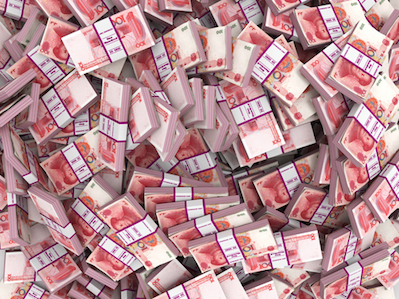 China's new RMB loans hit a much stronger-than-expected RMB2.51 trillion in January, compared to market expectations of RMB1.9 trillion, and also much higher than December's RMB600 billion.
Household demand for bank loans was strong, especially for medium and long term loans, which accelerate further to RMB478 billion.
Corporate demand was robust as well, with medium and long term new loans more than tripling from December's RMB346 billion to RMB1.06 trillion.
Total social financing aggregate in January also saw a surprisingly high record reading of RMB3.42 trillion, RMB1.61 trillion higher than December and RMB1.37 trillion than a year earlier.
Shadow credit was strong across the board as well, assisted by earlier policy relaxations such looser corporate bond issuance rules.
New corporate bond issuance and trust loans stood out in particular, both printing stronger than the previous month and significantly than the same month last year at RMB455 billion and RMB55 billion, respectively.
There was no local government bond issuance in January, as some local government funding needs may have been catered for by RMB loans.
January's strong credit is unlikely to continue, with the passing of seasonal factors that impacted January's figures, says a research report by UBS AG.