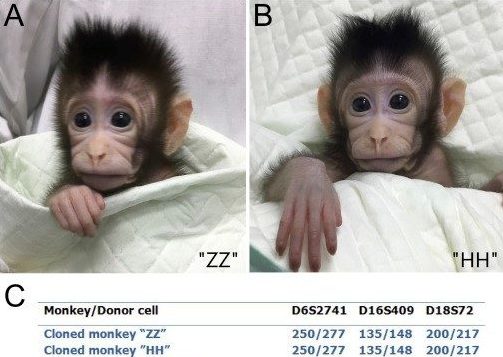 China's successfully cloning of two long-tailed macaques may raise ethical concerns given the potential for the technology being used one day to clone humans. But for the scientists involved, it marks a milestone in China's multi-billion dollar effort to rival the U.S. and the European Union in biomedical research. It also makes good business sense.
"This is a significant worldwide breakthrough completed by China independently," said Bai Chunli, the head of the Chinese Academy of Sciences, speaking with Chinese state media. "It indicates that China has become a leading player in the life science field."
To create two genetically identical clone macaques named "Zhong Zhong" and "Hua Hua", which together means Chinese nation or Chinese people, scientists at the Institute of Neuroscience of the Chinese Academy of Science used nuclear transferring of somatic cells, a technique first used to produce Dolly the sheep, the world's first cloned mammal in 1996.
Since Dolly, scientists have used somatic cell nuclear transfer to clone cows, mice, rats and dogs. But they have never cloned a nonhuman primate, due both to the complexity of primates' genetic makeup, and ethical issues given the potential for human cloning.
Yet the similarities with humans was a key reason for the decision to clone monkeys, say the scientists behind the project.
"Monkeys and humans are both primates, so they are more closely related and testing on Monkeys is supposed to be as effective as testing on humans," said Sun Qiang, director of the non-human primate research facility at the institute and an author of the study. "This is especially useful in testing drugs for neural diseases such as Parkinson's disease, metabolic and immune system disease, and tumor."
He argued that most drug trials are currently done using lab mice. "This achievement will help China lead the world research in international science projects related to neural mapping of primate brains," said Sun.
It also makes practical business sense, and may even be good for the environment, said Pu Muming, another scientist who authored the report.
"For drug and other lab tests, scientists have to purchase monkeys from all over the world, which is costly, bad for the environment and produces inaccurate results because each monkey might have different genes," he said. "By cloning monkey using somatic cells, we can mass cultivate large number of genetically identical offspring in a short amount of time, and we can even change their genes to suit our needs."
This, he noted, can save time, reduce experiment costs, and produce more accurate results, leading to more effective medicine.
China is spending billions of dollars in an efforts to enhance its biomedical capabilities. According to 2015 figures, China's spending on biomedical R&D is now equal to 75% of the money spent by the U.S., or roughly US$375 billion, up from just 12% in the year 2000.
As a result, in 2016 China for the first time overtook the U.S. in terms of the number of scientific papers published, according to the Science and Engineering Indicators report issued by the U.S. National Science Foundation.
But today's announcement also raises significant ethical concerns for potential humans cloning. As of 2015, around 70 countries had banned human cloning, including the U.S., U.K., Switzerland and Russia. Earlier in 2005, a non-binding United Nations Declaration on Human Cloning called for the ban of all forms of human cloning.
The Chinese researchers plan to continue improving the technique and monitoring the two monkey babies' physical and intellectual development. The babies are currently bottle fed and are growing normally compared to monkeys at their age. The Group is also expecting more macaque clones to be born over the coming months, according to an announcement from the Chinese Academy of Science.