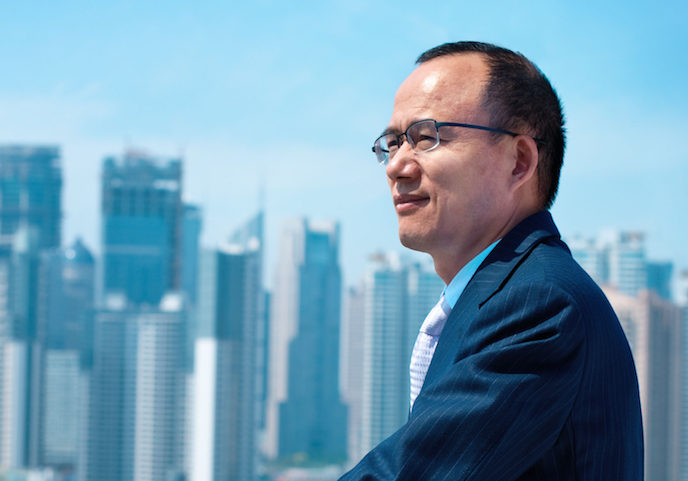 Corporate Chinese maybe under pressure from its government to slow down overseas investment. But that isn't stopping Fosun Group, led by Guo Guangchang, which in little over a week has agreed to acquire nearly a quarter of a billion dollars in foreign assets.
The latest buy for the Shanghai-based conglomerate is a controlling stake in Austrian luxury lingerie and leg-wear company Wolford for €55 million (US$67.5 million) from its founders. Under the agreement, Fosun will make an offer to Wolford's remaining shareholders. The company's total market capitalization is currently around US$80 million.
That deals follows news on Tuesday that Fosun will buy Brazilian asset manager Guide Investimentos for US$52 million. A few days before that it was announced that Fosun has become majority shareholder in French fashion house Lanvin. Financial details on that deal were not disclosed, but Fosun is reportedly investing around €100 million (US$123 million).
Fosun continuing shopping spree indicating that despite efforts by the Beijing government to reduce capital outflow, the acquisitive habits of Chinese companies may be hard to break. Other acquisitive companies like HNA and Dalian Wanda have been pressured to sell off assets to pay down their debts.  And on Thursday it was reported that Ye Jianming, chairman of Chinese energy conglomerate CEFC China Energy, had been detained by authorities for "investigation" related to the groups aggressive buying habits.
To be sure, Fosun has sold some assets. The company recently offloaded property in  Sydney, Australia for A$142.5 million (US$109.2 million), and London for about 105 million pounds (US$140 million). And in January, Russia's largest gold producer Polyus announced that the agreement to sell 10% of its ordinary shares for US$887 million to a consortium led by Fosun had been terminated.
However, despite a few high-profile divestments, Fosun has shown little sign of slowing its buying activity. In 2017 it participated in 29 merger and acquisition deals worth US$3.57 billion, a sharp increase from 17 deals totaling US$610 million in 2016, according to Dealogic data.
The difference now may be not the amount of assets, but the type of assets. Fosun has shifted its focus from property and natural resource to sectors such as food and healthcare. In July, Fosun and Beijing Sanyuan Foods Co., Ltd. acquired French margarine maker St Hubert SAS for €625 million (US$733 million). In September, Fosun Pharmaceutical said it plans to buy 74% of Indian drug maker Gland Pharma for US$1.1 billion, in the largest ever Chinese acquisition for an Indian company. On the domestic front, Fosun announced plans in December to acquire 18% of Tsingtao Brewery Co., Ltd. for US$844 million.
The change in strategy makes sense given that the Chinese economy is seeing a general shift towards more value-added consumer update products. Investments in foreign luxury brands and high-quality consumer goods could benefit from domestic demand in the long run. The fact that Chinese tourists are now buying up luxury goods around the world at record levels also supports the strategy.
However, Fosun will likely be cautious in its overseas buying habits given the increased scrutiny of the Beijing government, especially after the news about CEFC chairman Ye Jianming. Like Fosun, CEFC has an interest in Russian natural resources, having agreed to buy a nearly US$9.1 billion stake in Russian oil major Rosneft.
In fact, In July 2017, Fosun saw its Hong Kong-traded shares fall sharply amid rumors that chairman Guo, sometimes called the Warren Buffet of China, had been detained for questioning. Memories of that event, combined with CECF's news may be one reason Fosun's shares were down 3% in early session trading Friday.