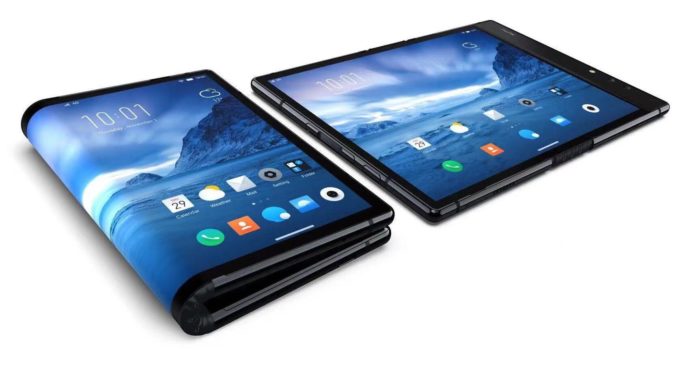 Royole Corporation, a Chinese manufacturer of rollable displays and smart devices, has unveiled world's first commercial foldable device that can be bent and rolled to serve as a mobile phone and tablet at an event in Beijing on Wednesday. 
The product, namely FlexPai, is equipped with a 7.8-inch high resolution screen that is 7.6 millimeters thick and can be bent over 200,000 times, according to the company's announcement.
FlexPai has introduced "a whole new dimension to the human-machine interface" because it can solve the contradiction between the high-definition large-screen experience and portability, said Bill Liu, founder of Royole at the event.
With the price starting from RMB8,999 (US$1,290), the device is designed in a way that consumers can get the functions and portability of both smartphones and tablets, said Liu.
Based on the company's flexible displays and sensor technologies, named Flexible+ platform, the newly-introduced device can be used either folded or unfolded. The company said that its Flexible+ platform can be integrated into a variety of products and applications across numerous industries.
Royole has also announced a developer support project, in which the company will invest US$30 million to finance and reward software developers to develop new apps for its FlexPai.
Founded by Stanford engineering graduates in 2012, Royole develops and manufactures human-machine interface technologies and products including advanced flexible displays, flexible sensors and smart devices.
Royole was valued at US$5 billion after it had raised undisclosed new capital from investors inlcuding Yingke Innovation Asset Management in October.
In September 2017, Royole received US$800 million in equity and debt in a series D round of financing from a group of Chinese investment firms including Hanfor Capital Management, Warmsun Holding Group and Shanghai Pudong Development Bank.
The company had kick-started its mass production of fully flexible displays in early June by setting up a 1.1-million-square-foot mass production campus in Shenzhen.