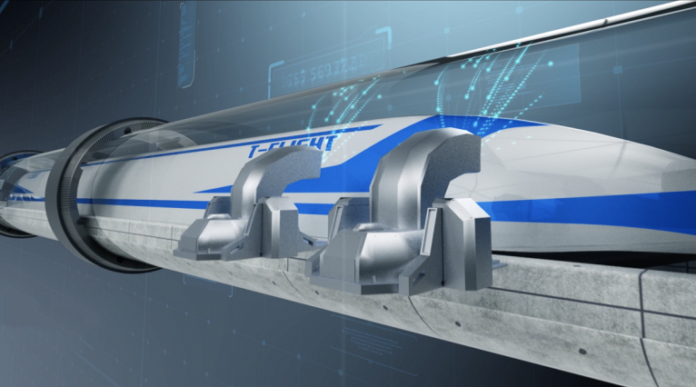 Zhejiang Geely Holding Group, the Chinese automaker that owns Volvo and Lotus, said on Tuesday that it has sealed an agreement with Chinese state-owned high technology firm China Aerospace Science and Industry Corp (CASIC) to jointly develop "supersonic" trains.
The two companies are planing to build a "hypersonic" mode of transportation through the combination of two technologies, namely magnetic levitation and vacuum tubes, according to a statement released on Geely's website on Tuesday.
The magnetic levitation, unlike traditional trains, uses magnetic forces to lift a vehicle from a guide rail, enabling it to float inches above the surface to eliminate a major source of friction.
The technology is embedded in the Shanghai maglev train, the third commercially operated magnetic levitation line in history that commenced public commercial service in January 2004.
The vacuum tubes technology is similar to the Hyperloop concept envisioned by Elon Musk. The technology will enable the trains to travel in sealed vacuum tubes to eliminate air resistance and increase speed.
Geely and CASIC will "leverage their capabilities in technology research and development, technology commercialization, and commercial operation," according to the statement. The duo did not disclose financial details and timeline for the completion of the project.
"Technologies developed through the realization of supersonic trains will help Geely Holding advance in the fields of new energy vehicles, automotive safety, and new material science," said the statement.
As the main contractor for the Chinese space program, CASIC had said that it was developing a system that could accelerate trains to 4,000 kilometers per hour (2,485 mph), almost double the 768 mph (1,235 kph) needed to qualify as "supersonic", China's state-owned publication Xinhua News Agency reported.
CASIC is aiming to achieve the ultimate goal of the 4,000-kilometer speed through a three-step scheme, with the first phase being to reach the speed of 1,000 kilometers per hour (620 mph) before 2023.
Founded in November 1986, Geely is one of China's biggest automakers. It holds a major stake in Germany's Daimler and owns Sweden's Volvo Cars. The company is also the maker of London's black cabs LEVC.
Geely had acquired the operations and assets of US-based flying cars developer Terrafugia in late 2017.