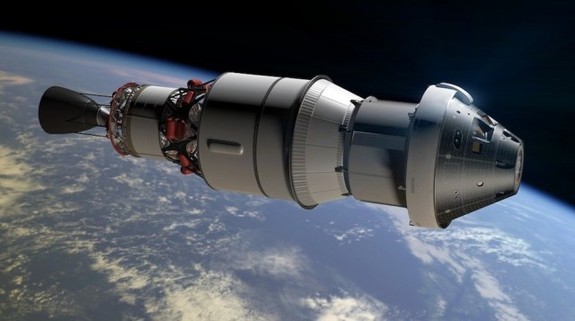 China is developing a new generation spacecraft for human spaceflight that would be used to send astronauts to the Moon and back and allow other deep-space destinations, according to space and astronomy news website Space.com on Wednesday.
The unnamed craft, designated to fly early next year, will be capable to fly beyond low-Earth orbit (LEO) and carrying four to six astronauts, according to Space.com
The developing spacecraft is 30-foot and fully reusable, with a maximum mass of about 22 tons at liftoff, according to a promo video released by the China Academy of Space Technology, a state-owned spacecraft and satellite manufacture.
The new generation spacecraft is planned to make an uncrewed test flight in the first half of 2020, based on the first launch of the Long March 5B heavy-lift rocket, according to China's Xinhua News agency. However, it all depends on the return to flight of the Long March 5, a Chinese heavy-lift launch system.
Before this new Shenzhou program is a crewed spaceflight initiative by China in 1999. Shenzhou 5 spacecraft, the fifth launch of Shenzhou program, was the first to carry a human, Yang Liwei, into space in China in 2003. Until now, Shenzhou program has developed to Shenzhou 11, the first manned docking with Tiangong-2 space station.
China became the third to independently launch astronauts into space, but not beyond Earth's orbit. China's Shenzhou spacecraft can only carry astronauts to low-Earth orbit since 2003. The U.S. remains to be the only country to have sent astronauts to the Moon.
Shenzhou spacecraft can carry three astronauts to LEO, but it is not designed for the harsh radiation environment of deep space, nor can it survive the high-velocity re-entry into Earth's atmosphere that such missions must endure.
Zhang Bainan, a spaceship engineer with China Aerospace Science and Technology Corporation (CASC) said that the new generation crewed spaceflight is expected to keep pace with the most advanced aerospace technology.