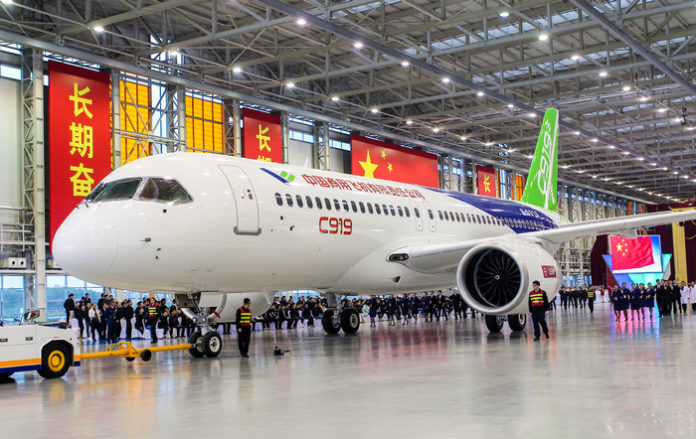 The Commercial Aircraft Corporation of China, Ltd. (Comac) announced on September 26 that it had began batch production for its C919 aircraft that would be delivered to its first customers.
Comac C919 aircraft is a large civil jet aircraft independently developed by China following international civil aviation regulations with independent intellectual property rights. It is a signature project for China's tech development by creating an aircraft maker that can eventually compete with Boeing and Airbus.
C919 aircraft has a layout of 158 to 168 seats, and a range of 4,075 to 5,555 kilometers. So far, it has completed the project demonstration, feasibility study and pre-development stage.
While designed and developed in China, C919's most complex and technologically advanced components come from foreign companies and only 50% of the components are domestically produced, according to Hong Kong newspaper the Standard.
In Made In China 2025 policy document, the country originally aspired to complete the research, production and delivery of self-developed 150-seat single-aisle mainline passenger aircraft – the description matching C919 – by 2020. Moreover, it hoped domestically-made mainline passenger aircraft would meet 5% of Chinese demand by next year.
C919 has completed a number of test flights, but may take three to five years to obtain necessary approvals in China before the C919 can begin production and delivery, according to a Chinese news report citing
government officials. It means the manufacturing and delivery of C919 is significantly behind schedule.
The deputy head of the Civil Aviation Administration of China Li Jian said in May that more flaws in aircraft design, manufacturing, airworthiness compliance and operational suitability were being identified, as work continued for certification of the jet, according to news agency Reuters.
C919 AC 104 flew from northeastern China Dongying, Shandong province to Xi'an, Shanxi province in central China for a new phase of flight test on September 20.
By batch production, Comac began the production of C919's parts and components, such as the centre lower panel of the outer wing section, in factory buildings at Xi'an, Shanghai and Chengdu.
C919 is intended to compete with the Airbus A320neo, Boeing 737 MAX, and Russia's MC-21, which is also under development, according to online publication Airlinewatch.