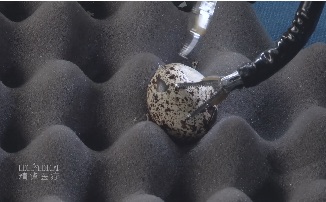 Edge Medical Robotics Co., Ltd., a surgical robot developer, has recently completed a pre-B round of financing of more than RMB100 million yuan.
This round of financing was led by 3H Health Investment, with participation from Guoce Investment, Lenovo Star, and Poly Capital.
It is a new round of financing for the startup following the 2019 series A round of financing and the April 2020 series A+ round of financing.
The financing will be mainly used to promote the development of Edge Medical Robotics' minimally invasive surgical robot products. The company develops intelligent surgical systems.
According to the a report released by Firestone Creation, since 2014, China began to introduce surgical robots, and the size of China's medical robot market has increased year by year, and it has maintained a high growth rate. In 2018, the domestic market reached RMB3.57 billion yuan, and it is expected to exceed RMB6.3 billion yuan in 2020.
Minimally invasive surgical robots are widely used in urology, cardiothoracic surgery, gynecology, general surgery and other fields because of their simple operation, high surgical accuracy, and good postoperative results.
As a new technology for robot-assisted minimally invasive surgery, single-hole robots have the clinical advantages of effectively reducing surgical trauma, reducing surgical risks, improving surgical safety and doctors' operating comfort, and are regarded as important for the future of minimally invasive surgical robots.
Edge Medical Robotics launched single-hole surgical robot animal experiment in 2018. After multiple product iterations, NMPA registration has been initiated. After the product goes on the market, it will be used for typical surgical treatments such as urology, thoracic surgery, and gynecology.
In addition, Edge Medical Robotics' multi-hole surgical robot products have also opened NMPA registration simultaneously.
At present, Edge Medical Robotics has deployed 3 pipeline products, including single-hole laparoscopic surgical robot system, multi-hole laparoscopic surgical robot system, and ultra-high-definition stereoscopic endoscope products.
All of them have entered the registration stage and have applied for 200 domestic and foreign patents. In addition, the company has also cooperated with many domestic and foreign hospitals such as Harvard Medical School, Chinese People's Liberation Army General Hospital, and Sun Yat-sen University Affiliated Hospital.