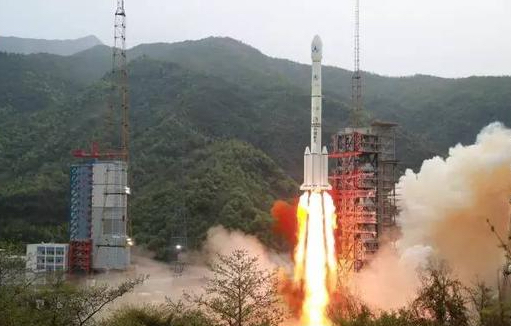 Chinese private rocket company Space Pioneer, or Tianbin Keji in Chinese, announced that it has completed hundreds of millions of yuan in Series A financing.
The financing is led by Zhejiang University Lianchuang and Zahe Investment Co., Ltd.
The financing will be mainly used for the hot test of Space Pioneer's "Tianhuo" series of HCP rocket engines, the first flight of the "Tianlong" series of liquid carrier rockets and the construction of the talent team.
This is also the company's second financing of over RMB100 million yuan in six months.
Space Pioneer's main business is the development of normal temperature green HCP liquid propellant, HCP rocket engine and HCP carrier rocket.
According to reports, HCP is a new generation of rocket propellant, which has the characteristics of low cost, non-toxic, non-polluting, wide temperature storage, multiple repeated ignitions and deep variable thrust.
Kang Yonglai, founder of Space Pioneer, believes that commercial aerospace launches are pursuing low cost, high reliability and the ability to quickly form large-scale launches.
"The mission of the private rocket company at this stage is not only to pursue new breakthroughs in technology and performance, but to select a technological path based on the needs of the commercial market to improve launch efficiency and reduce launch costs. HCP is the path chosen by Space Pioneer. It will be able to provide satellite users with fast, low-cost, reliable, and batch launch services." Kang Yong said.
At present, Space Pioneer has completed the "Tianhuo No. 1″ HCP liquid rocket engine full-system hot test run, and the "Tianhuo No. 2″ liquid rocket engine full system hot test run and completed the hot test of the whole system.
Kang Yonglai also revealed that the "Tianlong No. 1″ liquid carrier rocket will also meet the conditions for its first flight in 2021. The first flight rocket has a design carrying capacity of more than three tons and will collect satellite cooperative payloads worldwide.
In addition, Space Pioneer has raised hundreds of millions of yuan in launch cooperation agreements with several satellite Internet development companies. It is reported that since its establishment in 2019, it has received investment from Zhejiang University Lianchuang, Lushi Investment, Jiuyou Capital, Inno Angel, Eagle Fund, Zaihe Investment and other investment institutions.
In April 2020, the National Development and Reform Commission proposed for the first time that "satellite Internet" should be included in the new infrastructure. Commercial aerospace related plans have also accelerated.
Since May, Shanghai, Beijing, Fuzhou, Chongqing, Chengdu, and Shenzhen have successively proposed action plans involving satellite Internet.
Beijing issued the "Beijing Action Plan for Accelerating the Construction of New Infrastructure (2020-2022)" on June 10, proposing to build a covering rocket, satellite, ground terminal, and application services around the integration of assembly and core component manufacturing.
Since the beginning of this year, private rocket companies have successively obtained large amounts of financing. Among them, Galatic Energy, iSpace and Land Space have successively announced Pre-A, B and C+ rounds of financing.