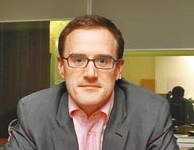 The author is head of Greater China research at Standard Chartered, Stephen Green
We are recalibrating our 2013 to 2014 China forecasts as follows:
We revise up our 2013 GDP growth forecast to 7.6% (from 7.5%) and our 2014 forecast to 7.4% (from 7.2%)
We forecast GDP growth of 7.5% in the Q4 2013
We revise up our CPI inflation forecast to 2.7% for 2013 (from 2.5%) and to 3.3% for 2014 (from 3%)
We forecast average CPI inflation of 3.1% in Q4 2013, compared with 2.8% in Q3
We expect the People's Bank of China (PBoC) to keep its benchmark savings and lending rates unchanged during 2013-2014
However, since we expect CPI inflation to break above 3.3% from Q2 2014 onwards, it is likely that the PBoC will raise the ceiling on the savings rate to 20%-30% above the benchmark rate, from 10% at present
A number of key indicators suggested an improvement in broad-based growth in Q3 2013. Rail freight growth was 3.6% in Q3, versus -4.3% in Q2.
Given the role of rail in transporting coal, this is echoed in the increase in electricity consumption.
Demand for investment-related goods, including steel products and cement, grew. Steel production rose by 14% in Q3, versus 8.9% in Q2.
Producer confidence improved in Q3, which bodes well for Q4. Composed of sub-indices of the official PMI, our indicators of inventory cycle outlook (the ratio of new and backlogged orders to raw-material and finished-goods inventories) and producer confidence (the ratio of purchases of raw materials to an average of production and backlog orders indices) improved in Q3.
The labor market has improved, and household income growth appears to be recovering.
Urban households' disposable income rose by 7.2% in real terms in Q3, after slowing to 6.4% in Q2. This re-acceleration in income has apparently supported a mild pick-up in consumption.
Urban household spending grew 5.6% in Q3, up from 4.6% in Q2. Rural income also improved. Migrant workers' real wage growth stayed robust at 9.9% in Q3.
Beijing has become more supportive of selected infrastructure projects (rail, metro and water treatment) and social-housing projects since the summer.
Project approvals appear to have been unblocked, and some additional financing channels have opened up.
Investment in central government-approved projects accelerated to 11.5% in Q3 from 8% in Q2. Growth in fixed asset investment (FAI) authorized by local governments has also stabilized at about 20.8% in recent months, after slowing in Q2.
We believe this growth momentum will continue in Q4 as a result of this broad-based recovery, with GDP growth of 7.5%.
In 2014, improvements in the global industrial cycle should to some extent offset the current structural slowdown in China. We therefore expect annual GDP growth of 7.4%, versus the official annual growth target of 7%.
(The article has been edited for clarity)