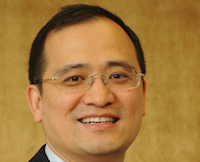 The author is ANZ Greater China chief economist Li-Gang Liu
Chinese media reported that China Banking Regulatory Commission (CBRC) proposed a new regulation on increasing the risk capital requirement for the inter-bank business. The new regulation is expected to be announced after the 3rd Plenary Session of the CPC Central Committee.
We view this as a further tightening on shadow banking activity. The Financial Institution (FI) Business developed very rapidly in China in the past few years, as it requires much lower risk capital requirement and faces more relaxed regulations.
The FI business is also seen as an important part of China's shadow banking activity as commercial banks normally treat the business as off-balance sheet activity.
Such intermediary banking business in the aggregate financing has continued to build up in the past three years, posing challenges for financial regulations and monetary policy effectiveness.
China's central bank stated in its third quarter monetary policy report that the FI business has become an important channel to create money supply in the past few years, and increase the commercial banks' leverage ratio as well.
As we mentioned earlier, China could miss the M2 growth control target this year for the first time since 2010.
To contain shadow banking activity, China's central bank started tightening banking sector liquidity since the middle of this year, which has brought about significant volatility in the money market.
However, as shadow banking activity re-emerged in August and September, the PBoC tightened liquidity again without any warning in mid-October, triggering concerns that June's "cash crunch" may be repeated.
The proposed new regulation indicates that the Chinese authorities will likely maintain the current tightening bias in the monetary policy, and we do see upside bias in funding costs for the remainder of the year.
(The article has been edited for clarity)