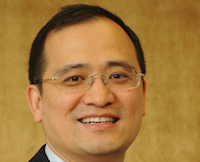 The author is ANZ Greater China chief economist Li-Gang Liu
The People's Bank of China announced on its website this afternoon that it conducted short-term liquidity operations (SLOs) twice at the end of October when the 7-day repo rate hit 5.7%, to ease market liquidity tightness.
This is the first batch of SLOs conducted by China's central bank after it introduced this mechanism in January.
The market impact of the SLOs announcement is quite limited at this stage, as both operations were conducted one month ago.
In our view, this suggests that the PBoC will use more liquidity management instruments to deliver its monetary policy. However, the information asymmetry (only banks who get the SLOs know what has happened) will bring about more market uncertainty.
We thus believe it is advisable for the central bank to release the SLOs information in a timely manner.
According to the operation procedures of the SLOs, the PBoC will use SLOs at intervals of normal open market operations and will focus on maturity of less than seven days.
The central bank currently does open market operations on Tuesday and Thursday every week, with 7-day, 14-day and 28-day repos being conducted.
The central bank said it will decide the size and maturity of the new tool depending on the need to adjust interbank liquidity and interest rate levels, and will announce the results on a monthly basis.
The PBOC named the 12 large Chinese banks that will participate in the SLO programs, and they are the "Big Four", as well as Bank of Communications, China Development Bank, Shanghai Pudong Development Bank, China Merchants Bank, CITIC Bank, Industrial Bank, Everbright Bank, and China Minsheng Bank.
(The article has been edited for clarity)