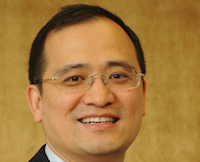 The author is ANZ Greater China chief economist Li-Gang Liu
In 2013, the internationalization of the RMB has continued to gain speed. Geographically, the offshore RMB market has expanded rapidly. Not only did we see the launch of official clearing services in Singapore and Taiwan, but also more bilateral currency swap agreements signed between China and other central banks.
China has increasingly eased its rules for cross-border transactions. Cross-border inter-company lending is now allowed. More RMB Qualified Foreign Institutional Investor (RQFII) quotas were granted. Documentation requirement for trade settlements has been lifted. The launch of Free Trade Accounts in Shanghai's Free Trade Zone signals China's ultimate goal of allowing free capital flows and yuan convertibility.
In the offshore market, the RMB has received a warm welcome. Offshore RMB deposits have likely surpassed RMB1 trillion. In addition to the Hong Kong dim sum market, Taiwan started to sell Formosa bonds.
In 2014, the offshore RMB market will continue to expand. It was decided at the 3rd Plenum of the 18th CCP Congress held in November that China will expedite capital account convertibility.
We anticipate that:
1, China will launch an internationally-compatible China International Payment System (CIPS) in 2014, facilitating easier cross-border flows.
2, Onshore residents will likely have more opportunities to invest offshore in 2014 through a possible launch of RMB Qualified Domestic Institutional Investor (RQDII) and individual cross-border investments. More retail products will be launched to meet offshore investment demand with Hong Kong likely removing the daily conversion limit.
As the People's Bank of China maintains a slightly tightening bias, onshore interest rates will likely stay high. However, in the near term CNH deposits will generally be offering a rate lower than the onshore level unless offshore banks can build up their RMB assets.
ANZ expects a mild appreciation of the RMB exchange rate in 2014. The CNH exchange rate will follow suit.
(The article has been edited for clarity)