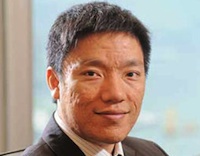 The author is Nomura economist Zhiwei Zhang
China's export growth surged to 12.7% year-on-year in November from 5.6% in October, well above market expectations, reflecting robust external demand. Import growth moderated to 5.3% from 7.6% in October, leaving a wider trade surplus of US$33.8 billion.
It is unclear if the strong export growth was partly inflated by capital inflows disguised as exports. There are some signs that capital flows may have played a role. China's export growth in November diverged significantly from the weak export performance of its neighbors, such as South Korea.
Furthermore, the State Administration of Foreign Exchange (SAFE) yesterday stepped up its efforts to clamp down on false trade flows and related trade finance, requiring banks to conduct stricter checks on the authenticity of trade documentation and legal compliance.
It is hard to tell, however, to what extent exports data may have been distorted by capital inflows in November. Industrial production data released on Tuesday should help verify if the export rebound is real.
Ordinary imports excluding commodities grew 11.6% in November, slowing significantly from 29.0% in October, which suggests weaker domestic demand.
Import growth of commodities rebounded to 9.0% after a sharp slowdown to 1.1% in October, mainly led by continued strong growth in iron ore imports and a smaller decline in crude oil Import growth. Un-wrought copper import growth slowed to 9.3% from 14.7%.
We maintain our view that China's GDP growth peaked at 7.8% in the third quarter and will slow to 7.5% in the fourth quarter and 6.9% in 2014, amid policy tightening and structural reforms.
While export growth poses some upside risk to our growth outlook for the fourth quarter, strong growth makes monetary policy tightening more likely to continue into 2014, hence a growth slowdown in the first half of 2014 remains our baseline scenario.
(The article has been edited for clarity)