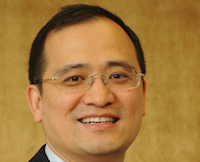 The author is ANZ Greater China chief economist Li-Gang Liu
China's top leadership concluded Central Economic Work Conference today, and set tone for next year's economic policies.
While the communique did not announce specific targets for next year, it emphasized that China would seek a multidimensional policy framework, with focus on a balance among growth, inflation, employment and financial/fiscal risks.
Our key takeaways are that China is very likely to lower the growth target to 7% for next year.
The Chinese authorities are committed to achieving all targets set by the twelfth five-year plan. While the growth in the first three years (2011-2013) of the five-year plan has reached 8.2%, compared with the five-year target of 7%, China has been lagging behind of the pollution control and carbon emission targets.
In addition to this, the Chinese authorities highlighted the risks associated with the local government debt, which implicitly warns the local government to keep a balance between growth and potential risks.
All these suggest that China could lower the growth target from 7.5% to 7% next year. It is worth noting that even at a 7% growth, the GDP generated each year will still be substantial, akin to Indonesia's GDP.
Although China will maintain prudent monetary policy next year, we believe that China's monetary policy implementation should be more flexible and forward looking, especially amid the accelerating interest rate liberalization process.
In our view, China should review its current monetary policy framework and fundamentally address its policy consistency.
We think the key is to reform the rigid exchange rate system. In addition, China should allow fast interest rate liberalization and nurture a short-term central bank policy target rate, accelerate financial sector reform, and quickly build up a deep bond market and foreign exchange hedging and derivatives markets.
China will accelerate the openness of the capital account. China will actively participate in free trade agreement (FTA) and bilateral investment treaty (BIT) negotiations, suggesting that China will encourage private capital outflows and open the capital account more rapidly.
(The article has been edited for clarity)