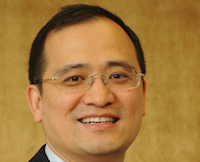 The author is ANZ greater China chief economist Li-Gang Liu
China's People's Bank of China reportedly had conducted a short-term liquidity operation (SLO) in China's money market yesterday.
The 7-day repo rate hit 9.8% in the afternoon, the highest since June's "cash crunch". In response, the central bank decided to rein in.
There was a rumor that two commercial banks did not settle their payments, although both banks denied the reports.
However, the PBoC extended the trading hour of the inter-bank market by 30 minutes yesterday afternoon, indicating that the situation was abnormal.
It reflects that the PBoC intends to calm down market fears as the 7-day repo was close to double-digit level again. On the other hand, the central bank appears to understand that the market might be faced with some unusual conditions. We believe the central bank's intervention is necessary and timely.
However, the PBoC suspended the regular reverse repos to inject liquidity for almost two weeks, even though it is close to the year-end. The seasonal pattern suggests that the liquidity will likely become very tight due to deposit competitions.
It seems that the central bank thought the large treasury funds injection from the Ministry of Finance in the second half of December would significantly relax the market liquidity; therefore it has not conducted reverse repo to avoid injecting access liquidity.
Nonetheless, the 7-day repo rate continues to pick up in the past week, indicating that the Chinese commercial banks have large assets to roll over before the end of the year.
Although the PBoC has attempted to act decisively yesterday, in our view, there is a need for the central bank to review its current monetary stance in order to meet the liquidity requirement towards year end.
While the SLO could be considered a tool to tackle the emergency needs of individual banks, the PBoC can start to conduct reverse repo again in order to lower the market interest rate.
Furthermore, the PBoC can also follow its practice in June by issuing an official statement in order to restore market confidence if needed.
(The article has been edited for clarity)