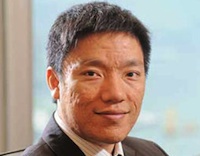 The author is Nomura economist Zhiwei Zhang
China's official PMI fell to 51.0 in December from 51.4 in November, a weaker reading than expected. Consensus and our estimate were 51.2.
PMIs across all firm sizes fell on the month, with that for large firms down by 0.4 percentage points (pp) to 52.0; that for medium-sized firms down 0.3pp to 49.9; and that for small firms down 0.6pp to 47.7.
The business expectations index fell sharply, off by 5.5pp to 49.4, marking the first sub-50 print since it was added in January 2013.
Most sub-indexes fell in December. The only exception being that for purchasing prices, which rose 0.1pp to 52.6. It may reflect the build-up of some inflationary pressures on the supply side.
The fall in the weaker-than-expected official PMI reinforces our view that growth momentum entered a downtrend in the fourth quarter after peaking in the third quarter.
We maintain our view that GDP growth will slow from 7.8% in the third quarter and 7.6% in the fourth quarter to 7.5% in the first quarter and 7.1% in the second quarter in 2014.
We remain concerned about the sustainability of investment by local government financing vehicles (LGFVs) and property developers given elevated interest rates.
We highlight three areas that we believe are worthy of investor attention in 2014:
1. How the government handles the LGFV debt issue, paying particular interest to the strength of new LGFV debt issuance.
2. The level to which the government will allow interest rates to rise.
3. The pace of the slowdown in property investment in third- and fourth-tier cities.
We believe that developments in these areas will decide how much downside risk the economy will face in 2014.

(The article has been edited for clarity)