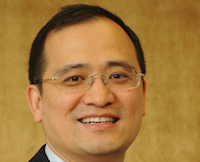 The author is ANZ greater China chief economist Li-Gang Liu
The story of a potential default of a trust product in China over the past week has increased the concerns on the risks of China's trust products and wealth management products (WMPs).
While the default has been avoided, it raises the question of how risky are these shadow banking activities.
We believe many such products may be under increased stress on changing economic fortunes and the decision by the People's Bank of China (PBoC) to crack down shadow banking activities.
Indeed, the latest episode could be a precursor of increased financial stress on China's trust and shadow banking sector, and 2014 will be the year of living dangerously with these products.
With a surge in local government debt and contingent liabilities, we view local government finances will experience increased strains in 2014.
In particular, local governments in the less wealthy central and western China could see the highest possibilities of distress. We believe the authorities must strike a fine balance between limiting moral hazard and preventing systemic risk.
In terms of upcoming data, we expect the January official Purchasing Manager's Index (PMI) will likely drop to 50.5, from last reading of 51.0, as the growth momentum slowed further at the beginning of this year, reflected by the high-frequency crude steel output data.
We also expect retail sales in Hong Kong to grow 6.3% year-on-year in December, from 8.5% in November.
(The article has been edited for clarity)