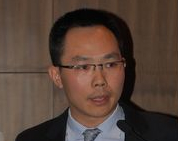 The author is China International Capital Corporation analyst Hanfeng Wang
The double whammy of softened U.S. and China January Purchasing Managers' Index (PMI) and persistent emerging market turmoil continued to weigh on offshore Chinese equities around the Lunar New Year.
After the holiday, the H-share market opened sharply lower, with the MSCI China losing around 1.7%. Although it did pick up slightly late last week. IT and financials lagged the most; only utilities and materials managed to gain.
MSCI China trades at around 8.1 times forward price/earning ratio after pullbacks, and non-financials at 10.8 times. Healthcare saw the largest earnings cut, while materials saw the largest upgrade.
After significant sell offs over past two months, we believe the H-share market has been oversold. It has very depressed valuations: 8.1 times forward P/E and 1.4 times trailing price/book ratio, already reaching the line of defense we identified.
Secondly, the Hong Kong Stock Exchange Hang Seng China Enterprises Index (HSCEI) 14 day relative strength index (RSI) dipped to as low as 23, touching its lower bound.
Also, compared to previous corrections, we found that HSCEI's 12.4% loss in January (as of the close on February) was the 12th worst-performing month since 2000.
Therefore, we expect any further downside might be muted and believe the risk reward looks more attractive now. In fact, historical experience suggests that the market usually rebounds notably over the next 1-6 months horizon following a single-month loss of such a magnitude, and the rally could be even stronger when valuations are subdued.
Moreover, low absolute valuations also warrant decent further gains. If investors' entry valuations are below 9 times forward P/E and 1.6 times trailing P/B, the next 3-month's median returns since 2000 would be 8% and 7% respectively.
We continue to favor sectors driven by domestic demand (namely internet, healthcare, property, insurance) and suggest buying on dips based on our long-term positive views.
Upcoming earnings reporting season and more macro data release are likely to present robust economic/earnings growth. And, more reform measures will be introduced approaching the annual National People's Congress and the Chinese People's Political Consultative Conference open on March 3, which might alleviate investors' concerns.
(The article has been edited for clarity)