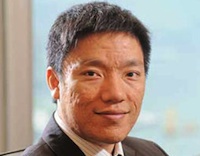 The author is Nomura economist Zhang Zhiwei
In January, China's exports grew by 10.6% against consensus estimate of 0.1%, while imports grew by 10.0%, compared with consensus of 4.0%.
Export growth with most major trading partners improved. Exports to Hong Kong contracted by 18.3% from growth of 2.3% in December.
We find this strong level of export growth puzzling. First, it is inconsistent with the new export order indexes from both HSBC and official purchasing managers' index (PMIs), as both have been below 50 since November and have been on a downtrend for the past two months.
Second, there is a strong base effect from the lunar new year holiday, which fell on 31 January this year and likely negatively affected production during the last week of January. The lunar new year occurred on 10 February in 2013.
Third, although official data showed that exports were very strong in early 2013, these were driven to some extent by capital inflows that were disguised as trade flows through mis-invoicing. This also led to a very high base effect in January 2013.
It is unclear to what extent the strong export data reflect true strength in the economy. At this stage, we believe capital inflows may have contributed at least partly to January's strong export growth numbers.
The lunar new year led to strong liquidity demand, yet domestic liquidity conditions have been tight, so there may have been strong demand for capital inflows.
The data on industrial production for January and February will be released on 13 March and should help to confirm the actual strength of export growth.
We maintain our view that GDP growth will slow to 7.5% in the first quarter and 7.1% in second quarter, despite favourable base effects.
China's economy is driven more by investment than exports, and therefore a moderate pickup in trade cannot offset the slowdown in investment.
The strong trade data reduce the probability of policy easing in the first quarter. We continue to expect the tightening bias of monetary policy to sustain through the first quarter and loosen in the second quarter, after the official PMI drops below 50 and GDP growth slows further.
(The article has been edited for clarity)