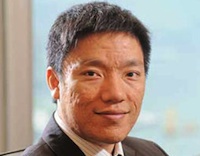 The author is Nomura economist Zhang Zhiwei
We received many questions on potential policy easing in China while visiting clients. We list these questions and provide our answers below.

1. Will the government ease policies? Why?
We believe the government will ease both monetary and fiscal policies in the second quarter this year. In the absence of easing, we think the probability of GDP growth dropping to below 7% in the second or third quarter would be higher than 50%.
Growth momentum is slowing quickly, with the latest signs in the further decline of the HSBC flash PMI in March and the sharp drop of new orders as indicated in both the HSBC PMI and the first quarter corporate survey conducted by the People's Bank of China (PBoC).
Domestic and overseas order indexes of the PBoC survey dropped significantly to 44.4 and 45.4 in the first quarter, respectively, their lowest in almost five years.
Another worrying sign is that growth of property investment looks set to slow in coming months, as its leading indicator, property transaction growth, slowed sharply in January-February.
Latest data show property transactions remained weak in the first half of March. Note that headline activity indicators such as industrial production and fixed asset investment have already slowed sharply in January to February.
If property investment slows in coming months, these headline activity indicators may drop further, unless policy easing kicks in quickly to offset this headwind.
Views in the market have differed on whether policy easing is likely. Indeed, our view of a reserve requirement ratio (RRR) cut in the second quarter differs from the mainstream view of no easing.
The government has made it clear that 7% growth is the "lower bound" that they will tolerate, so the key difference between our view and the mainstream view appears to be the underlying strength of the economy – can growth stabilize without a major change of policy stance?
We believe it cannot, as tight labor market conditions suggest that potential growth has already dropped to around 7% or below, and from a cyclical perspective the cumulative policy tightening since mid-2013 will likely damage investment momentum in coming quarters unless the policy stance loosens.
2. Wouldn't policy easing be inconsistent with the government's objectives to re balance the economy and contain financial risks?
We believe the government has long-term objectives such as re-balancing the economy and short-term objectives such as maintaining growth above 7%.
We believe that, if short-term objectives are not at risk, the government tends to focus on the long term objectives. But when short-term objectives are challenged, the government usually shifts its focus toward promoting growth.
We have witnessed this "two step forward, one step back" style of policy swings in the past.
3. What policy easing measures are likely?
We see three sets of policy easing measures. First, on the monetary side, we believe the PBoC needs to send a stronger signal of policy easing. We believe a RRR cut of 50 basis points in the second quarter and another 50 basis points cut in the third quarter are likely.
The probability of an interest rate cut is rising as well, although it is not yet part of our base case. Credit supply will also likely rise, as measured by bank loans and total social financing.
Second, on the fiscal front, we believe fiscal spending will increase, so on a monthly basis the actual central government fiscal deficit may widen. Third, in the housing market, policies may loosen in de facto terms.
The central government has decided to give local governments more freedom to choose housing policies that are appropriate for local circumstances. This will likely lead to policy easing, as local governments are under pressure to boost local housing markets.
For instance, some property developers offer financing for buyers to cover part of their down payment, according to Chinese financial news. Such offer circumvents the down payment ratio requirement by the banks.
4. Why does the PBoC need to cut the RRR? Liquidity condition seems very loose already. Why can't they just inject liquidity through open market operations?
We believe the PBoC needs to send a strong policy easing signal to affect market expectations. Overall financing costs are still high, as 3-year AAA-rated corporate bond yields were at 5.6% on 24 March, higher than mid-2013 levels.
Liquidity injections can help to keep repo rates low, but do not lower rates on the long end of the curve quickly. Without a stronger signal from the PBoC, the market will likely continue to expect persistent de-leveraging, and financing costs will remain high. Note that some local government financing vehicles (LGFVs) have had to pay interest rates of 9% or higher to issue bonds in January.
Such a cost for bonds with a similar credit rating and duration has fallen a bit to 8.5%, but are still much higher than the 5-6% in May 2013.

5. What signals should investors track to monitor if policy easing is happening?
The first signal is always messages in speeches from senior government officials. On that front, Premier Li sent a message in a State Council meeting on 20 March.
The other signals include loans, total social financing, fiscal spending on a monthly basis and policies on the housing and shadow banking sectors.
(The article has been edited for clarity)