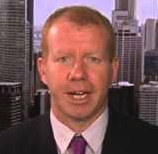 The author is Standard Chartered Banks' chief investment strategist Steve Brice
Heightened emerging market political uncertainties, poor economic data in China, and the likelihood of the U.S. Federal Reserve's tightening all suggest emerging market under-performance is likely to extend over the next six to twelve months.
Within emerging market, we have a preference for Asia ex-Japan equities, but still hold this as an underweight relative to developed market equities.
Latin American markets look vulnerable given a still-weak economic backdrop. Russian equities have been badly hit by the Ukraine fallout. While they look very cheap, sentiment is likely to remain fragile near-term.
The RMB's weakness is likely temporary. Our timing of highlighting the RMB's local currency bond idea was hardly ideal.
However, while we may see further short-term RMB weakness, we believe the recent policy changes do not alter the longer-term appreciation trend.
We have a strong preference for bond exposures to have a short maturity profile given interest rate and credit risks.
Developed market high yield bonds are still preferred within fixed income. However, we expect modest returns and continue to have a preference for developed market equity relative to developed market bonds.
Lastly, global equities are still preferred to global bonds. Generally, we remain bullish on equities in the very short term, the next month, and over 12 months.
There is, as always, the potential for an intermediate pullback. The indicators we look at for signalling such a pullback are not worrying at this juncture, but we will become more alert to such risks as we approach the May-September period.
We still expect a further re-rating of developed market equities. Many are concerned that the U.S. equities are expensive.
While there are pockets that are expensive (for example, the defensive areas), we expect a re-rating for the market as a whole for two reasons.
First, equities remain cheap relative to bonds – both investment grade and high yield.
Second, once you take into account the current level of inflation, equities no longer look expensive. Indeed, as long as you expect inflation to stay in the 0% to 4% range, which we do, it would be normal to expect the price-earnings ratio to go higher.

(The article has been edited for clarity)