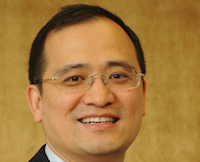 The author is ANZ greater China chief economist Liu Li-Gang
China's export growth registered a negative growth for the second straight month in March, falling by 6.6% year-on-year, versus a 18.1% drop in February.
The latest data reflects that Chinese central bank's "double intervention" in both the foreign exchange and rate markets to counter hot money inflows has taken effects.
Notably, while China's headline export growth came in below expectations, the port throughput volume tells a different story that the container exports started to pick up from the fourth quarter of 2013.
In addition, the export orders index in both official PMI and HSBC PMI rebounded significantly in March. In fact, the officials from China customs also said that it is still possible to achieve the trade growth target of 7.5% this year, and it is believed that China's exports will pick up from the second quarter.
We believe that China's trade growth in the first few months would be distorted as the export over-invoicing activities last year have inflated the base for comparison.
Our field study also shows that the exports are more resilient than what the headline data suggest. Data show that China's exports to Hong Kong collapsed by 43.6% year-on-year, reflecting that the round-tripping should have slowed down.
China's imports also fell sharply by 11.3% in March, down from a 10.1% gain in the prior month, as the recent RMB depreciation has negatively affected the commodity (round-tripping) financing activities to arbitrage the onshore-offshore foreign exchange and interest rate differentials.
In the meantime, a decline in import growth also reflects that China's manufacturing sector remains lukewarm. Iron ore imports surprisingly rose by 14.6% in March on a volume basis, up from 8.5% in February.
We believe that the People's Bank of China's intervention could be less intensive as U.S. officials said recently that the recent RMB deprecation could raise "serious concerns" if it signaled a policy shifting away from allowing a market-determined exchange rate.
The RMB deprecation will be short-lived if there is no fundamental change to the one-way capital inflows, especially when China still has very sizable current account surplus.
The PBoC should further encourage capital outflows by allowing private firms and residents to invest abroad and should encourage both RMB and USD capital outflows.
Two-way capital flows will naturally lead to volatility and flexibility in China's exchange rate system.

(The article has been edited for clarity)