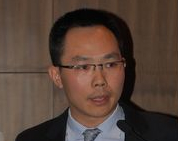 The author is China International Capital Corporation (CICC) analyst Wang Hanfeng
The H-share market rallied 1.9% last week on the back of financial reforms, such as the forthcoming trial of preferred shares and the Shanghai-Hong Kong Stock Connect scheme.
We reiterate our positive view on the H-share market and our preference over "old economy" sectors, as we see China's policy is becoming increasingly supportive and the newly announced Shanghai-Hong Kong mutual access pilot program should provide additional support to market liquidity in Hong Kong.
The to-be-launched link between the Shanghai and Hong Kong bourses opens a new window for foreign investors to invest in the A-share market and a gateway for domestic investors to the H-share market.
We believe this pilot scheme will boost market sentiment in the near term, increase market liquidity and eventually narrow the valuation gap between the A-share and H-share markets.
The MSCI China is currently trading at 8.7 times 12-month forward price/earning ratio, with non-financials at 11.7 times, still at the lower bound of its 10-year historical range.
The Hang Seng China AH Premium Index (an index that tracks the average price difference of A shares over H shares for the largest and most liquid Chinese companies with both A-share and H-share listings) narrowed remarkably in terms of simple average thanks to the announcement of Shanghai-Hong Kong Stock Connect scheme.
Earnings wise, MSCI China 2014 estimated earnings per share saw upgrades in cyclicals and financials – such as IT, banks and materials – but downgrades in defensives, such as healthcare and consumer staples.
In terms of liquidity, due to the improving risk appetite, equities market last week saw net inflow for the second consecutive week.
In addition, the Hong Kong market average turnover resumed its recovering trend with a notable surge last week.
Domestically, the People's Bank of China injected RMB55 billion of liquidity last week, the first net injection in the past ten weeks. Accordingly, the overnight repo rate edged down slightly compared with the previous week.
We suggest watching for beneficiaries from the Shanghai-Hong Kong Stock Connection scheme, such as brokers operating in both markets and A-share and H-share dual-listed names that are trading at large discount to their A-share peers, as well as H-share stocks which are rare in the A-share market, such as internet and gaming large-caps.
(The article has been edited for clarity)