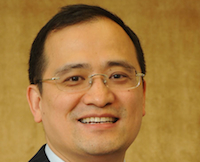 The author is ANZ greater China chief economist Liu Li-Gang
China's official Purchasing Managers' Index (PMI), the bellwether of large industrial firms, picked up modestly to 50.4 in April from March's 50.3, generally in line with market expectations.
In the meantime, the HSBC PMI, representing a group of private-sector and small and medium enterprises, also rebounded in April.
The improvement of both PMIs reflects that a cyclical upturn is underway supported by the recent pro-growth targeted policies, and suggests that China's growth momentum is stabilizing.
Indeed, we have observed that the crude steel output has increased in April, in line with an acceleration of newly-started projects during the same period.
In the meantime, commodity prices also rebounded after falling for three months. The input price index, increased by 3.9 percentage points to 48.3, and new orders also picked up by 0.6 percentage point to 51.2.
However, the export orders index declined by 1.0 percentage point to 49.1, reflecting that the headwinds remain for China's external sector.
The State Council also announced a slew of policies including tax rebates, to support exports yesterday.
Looking ahead, while the growth outlook has improved somewhat, the downward pressures remain, especially as financial risks have emerged amid the de-leveraging process.
For example, onshore commercial banks have started to tighten the credits for the commodity financing business, which could send negative shocks to the genuine demand.
We believe that the high cost of funds has squeezed the profits of corporates, which would further deteriorate the de-leveraging process.
From this perspective, the Chinese authorities have to differentiate the policy orientation and adopt structural policies to address structural issues.
In the meantime, the cost of funds should be lowered via RRR (reserve requirement ratio) cuts to help reduce the pressures faced by Chinese companies.
(The article has been edited for clarity)