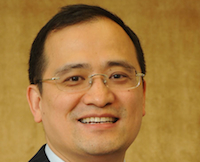 The author is ANZ greater China chief economist Liu Li-Gang
The People's Bank of China (PBoC) announced tonight that it would conduct a 0.5% reserve requirement ratio (RRR) cut to the commercial banks which lend to the agriculture sector and the small and medium enterprises, effective from 16 June 2014. The central bank said that the RRR cut this time will cover two thirds of the city commercial banks and 80% of the rural commercial banks.
In addition, the PBoC will also cut the RRR for the financial leasing companies, financial corporates and auto financing companies by 0.5%.
This is the second selective RRR cut conducted by the central bank this year. On 25 April, the Chinese central bank trimmed the RRR for some rural commercial banks and rural credit co-operatives, and these financial institutions will be excluded from today's action.
We estimate that today's RRR cut will release RMB70 billion to RMB100 billion liquidity into the market, with the size similar to the last selective RRR cut. Notably, a 0.5% RRR cut to the whole financial system will bring about RMB500 billion liquidity.
The PBoC action is consistent with our expectations. While the PBoC does not want a broad-based RRR cut, we believe that this is a compromise as the State Council and Premier Li Keqiang are reportedly increasingly concerned about downside risks facing the economy.
However, we believe the impact of the targeted RRR cut remains limited. As the major banks are still subject to the 20% RRR, the cost of borrowing will remain high. Without a broad-based RRR cut, the central bank cannot convey a strong signal to the banking sector for a changing monetary policy direction. In fact, the PBoC reiterated tonight that it would maintain the prudent monetary policy stance in the future.
Even with today's action, we continue to call for another RRR cut. If the economic data over the next two months are not up to speed, we do not exclude the possibility for China to cut the RRR by another 0.5% in the third quarter.
(The article has been edited for clarity)