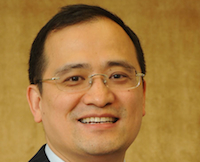 The author is ANZ greater China chief economist Liu Li-Gang
China expands a pilot program on foreign currency deposit rate from Shanghai's Free Trade Zone (FTZ) to the whole Shanghai city, effective from June 27.
Under the plan, Shanghai will first liberalize interest rates on small-sum foreign currency deposits from companies, and then expand to those from individuals, the Shanghai Head Office of the People's Bank of China says.
We think this is an important experiment for China's interest rate liberalization as it is extended across the wall and involved the domestic banking system.
The pilot started in the FTZ just three months ago. The PBoC's bold extension of the liberalization to the whole Shanghai, China's financial center, indicates China's determination to quicken the reform. It also suggests that China may soon start similar experiment for RMB deposits in the FTZ or banks' Free Trade Accounts.
If successful, China will also likely roll out liberalization on foreign currency deposits across the whole country. China's foreign currency deposits totaled US$566 billion in May, representing about 3% of total bank deposits.
However, the liberalization applies to foreign currency deposits only and the cap on RMB deposit rate remains. Such a partial liberalization may still distort the market pricing of RMB and foreign currencies in the money and forex market and arbitrage opportunities may exist. The PBoC is expected to watch closely the market flows and keep a tight rein.

(The article has been edited for clarity)