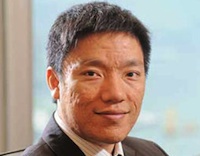 The author is Nomura economist Zhang Zhiwei
China's consumers price index (CPI) inflation eased to 2.3% in June, from 2.5% in May, resulting in a second quarter average of 2.2%, down from 2.3% during the first quarter.
The country's producers price index (PPI) inflation improved further to a decline of 1.1%, from a drop of 1.4%, which came in below expectations.
These downward revisions mainly reflect lower-than-expected food inflation, especially pork price inflation, which remained subdued at a drop of 5.0% in the first half, largely due to the warmer winter and expanded production capacity.
We still expect inflation to remain moderate in the third quarter, leaving room for further policy easing to help GDP growth rebound in the second half.
Moreover, we may also see inflationary pressure from food supply, especially pork supply. Now the hog price-to-corn price ratio has been below the profit/loss breakeven line of six for half a year and the hog livestock has reached a record low of 382 million head in May since January 2009.
In addition, the price reform of resources and public utilities will also likely contribute to higher inflation next year.
We are revising down our forecast for 2014 CPI inflation to 2.4% from 2.8% previously, while maintaining our 3.2% forecast for the year of 2015.

(The article has been edited for clarity)