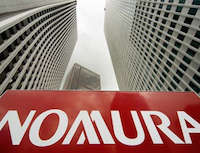 The author is Nomura Global Markets Research
The HSBC flash Purchasing Managers' Index (PMI) rose to 52.0 in July from a final June reading of 50.7, much stronger than market expectations of 51.0.
This is a 1.3 percentage point increase, in contrast with the historical average of a 0.3 percentage point decline in July from 2005 to 2013, excluding 2009.
The improvement was across the board, with the new orders sub-index rising to 53.7 from 51.8 in June, the new export orders sub-index rising to 52.7 from 50.7 and the output sub-index rising to 52.8 from 51.8.
There are also some signs of price pressures, with the input price sub-index rising to 52.9 from 51.3 in June, and the output price sub-index rising to 51.0 from 49.9.
The strong PMI data show that growth momentum continues to build this quarter on the continued roll-out of easing measures and some improvement in exports.
Our two proprietary indicators also suggest that the strength in growth continued into July. We maintain our forecast of growth at 7.5% in the third quarter and 7.6% in the fourth quarter, with upside risks to our third quarter forecast.
On the policy front, we continue to expect the government to loosen policy further in the third quarter to offset the ongoing property market correction, manage credit risk events, and lower financing costs for firms, especially for small and micro-enterprises, so that the government can achieve its 2014 growth target of 7.5%.

(The article has been edited for clarity)