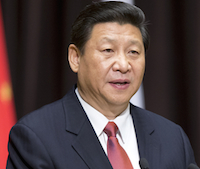 China's anti-corruption campaign has some negative impact on activity growth in the short term, but should generate significant positive benefits over time as a result of to more efficient spending, possible easing in social tensions, and better productivity growth, says a report by Goldman Sachs Global Investment Research.
The anti-corruption campaign, initiated in late 2012 as the new leadership came to power, has continued to surprise observers. Not only did not it fade quickly, as many initially expected, it has actually picked up in recent months.
Prosecutors investigated more than 25,000 people on suspicion of corruption in the first half of 2014, up 14% from the level last year, according to statistics released by the Supreme People's Procuratorate (SPP).
In addition to investigating specific instances of misconduct, the government has rolled out a large number of policy measures restricting various activities by government officials, including luxury brands such as BMW and Bentley will not be eligible to receive new military license plates; all levels of government are banned from building new office buildings in the next five years; renovation of existing office buildings needs strict approval; governments are banned from using public funds to organize extravagant galas, among a long list of others.
The stepping-up in the campaign has affected both consumption and investment. Both components of GDP slowed in the first quarter and rebounded in the second quarter both this year and last year, a pattern not observed in prior years.
At the more micro level, data shows imports of wine and outward Macau visits have fallen dramatically and have shown little rebound.
The fact that investment growth also exhibits the new seasonal pattern could be caused by a change in policy bias. Under the anti-corruption campaign, many officials have become more risk-averse and less aggressive in pursuing pro-growth policies as many officials have been investigated for wrongdoing while leading investment projects and sales.
The slow fiscal expenditure was particularly marked this year and was only reversed in May after the central government had sent out inspection teams and administratively requested government bodies to spend the fiscal funds they received, or face the withdrawal of funding.
Estimating the size of the impact is tricky, but Goldman Sachs says although the anti-corruption campaign may have negative impact in the short term, it should have significant positive benefits over time.