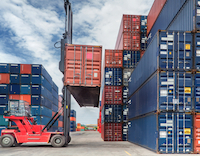 The author is Nomura Global Market Research
China's export growth in July rose more than expected, to 14.5% year-on-year from 7.2% in June, compared with market consensus of a 7% increase. The out-performance is largely due to improved external demand.
On a three-month moving average basis, export growth rose to 9.6% year-on-year from 4.9%. Exports to Hong Kong were up 13.3%, up from 6.6% in June, while those excluding Hong Kong grew at an even faster pace of 14.7%.
Exports to the E.U. grew 17.0%, to the U.S. up by12.3%, and to Japan by 2.9%.
Import growth fell by 1.6% in July from a 5.5% gain in June, largely due to last year's high base. This resulted in a record-high monthly trade surplus of US$47.3 billion.
Lower imports were seen across the board: commodity imports fell 7.2% in July from a 4.6% rise in June, ordinary imports ex-commodities fell 1.2% from a 0.9% rise, and imports for processing & assembly slowed significantly to 2.5% from 15.0%.
We believe that the strength in exports supports our view that growth will recover in the second half.
We maintain our forecast of GDP growth at 7.5% in the third quarter and 7.6% in the fourth quarter, with upside risks to our third-quarter forecast.
While we continue to expect the government to maintain a loose policy stance, the record-high trade surplus and the increase in external demand, raises doubts over the extent of further policy easing in the third quarter.
(The article has been edited for clarity)