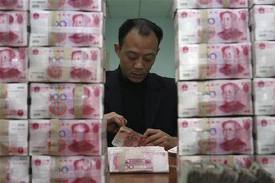 About US$212 billion of rated corporate debt will mature in the emerging Asia region from the second half of 2014 through the end of 2019, representing about 2.2% of the US$9.5 trillion of corporate debt maturing globally during the same time period, according to estimates by credit rating agency Standard & Poor's.
"Led by China, the emerging Asia region continues to increase its footprint in the global credit markets," says Diane Vazza, head of Standard & Poor's Global Fixed Income Research. "While loans remain the region's favored form of corporate financing, the bond markets have seen increased activity in recent years."
New corporate bond issuance rose to nearly US$456 billion in 2013 from less than US$100 billion in 2006. China accounted for only 17% of
the total in 2006 compared with 64% in 2013.
The region's new corporate bond issuance through the first half of 2014 was US$182 billion, US$78 billion of which came from Chinese companies.
The size of the Asian and Chinese corporate bonds market is still very small comparing to other mature markets. There are US$4.2 trillion of rated corporate debt maturing in Europe through 2019, US$3.8 trillion in the U.S. and US$1.1 trillion in the other developed regions including Australia, Canada, Japan and New Zealand.
About US$269 billion is expected to mature in the other emerging countries outside of Asia.