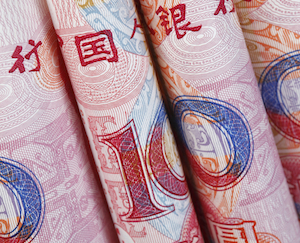 The author is ANZ greater China chief economist Liu Li-Gang
Taiwan is reportedly to embark local RMB fixings for interest rate and exchange rate in the interbank market, effective from September 1. The interest rate fixing will be called CNT TAIBOR Benchmark. The RMB exchange rate fixing is reportedly to be priced against U.S. dollar, not Taiwanese dollar.
The level of RMB deposits in Taiwan is sizable enough for it to establish a vibrant local market. By the end of July, total RMB deposits held by domestic banking units and offshore banking units totaled RMB293 billion, roughly one-third of Hong Kong's offshore RMB market.
Since Taiwan relaxed the ban for companies to issue Formosa bonds in the local market in March 2013, a total of 19 batches of bonds valued at RMB14.4 billion have been issued as of the end of July.
Given the low yield environment of the Taiwanese dollar market, Taiwan's life insurers will be particularly interested in enhancing their return through increasing their exposure to RMB instruments.
Establishing its own fixings for interbank interest rate and exchange rate in the local market will enhance the ability of Taiwan's domestic banks to price their RMB-denominated financial products in accordance with the liquidity condition and balance-sheet position of the domestic banking sector.
The interbank rates will become an important infrastructure for the advancement of Taiwan's RMB market.
As Taiwan does not impose capital control on the flows of RMB with other markets, we believe that the local RMB fixings will be similar to that of Hong Kong.
This market development will make Taiwan's RMB market pricing more transparent and encourage RMB exchange rates to converge between Hong Kong and Taiwan markets.
This development will also challenge Hong Kong's dominant role as an offshore RMB center. To some extent, the increased political uncertainty in Hong Kong will also help elevate Taiwan as a significant offshore RMB center.
(The article has been edited for clarity)