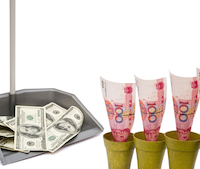 About 77% of Hong Kong investors and approximately 45% of investors in Taiwan owns RMB assets. Among them, around 69% of Hong Kong investors holds RMB deposits, compared with 36% of investors in Taiwan doing the same, according to a latest report from Manulife Financial Corporation.
Even thought investors in both cities are enthusiastic about investing in RMB assets, they have different preferences. The second most popular RMB assets in Hong Kong are RMB bonds, held by 25% of all investors. But in Taiwan, RMB mutual funds come as the second most popular form, with 11% of investors in the island holding these investments.
"The past few years have marked the continued internationalization of RMB and Hong Kong's prominent position as an offshore RMB center," says Michael Huddart, Manulife's general manager for Greater China.
"With RMB on course to become a major globally traded currency, we expect the RMB asset ownership penetration in Hong Kong and Taiwan to continue to rise as a greater variety of RMB financial products are made available," he adds.
With growing pools of offshore RMB deposits both in Hong Kong and Taiwan, and as cross-border investment in Chinese equities and bonds becomes more widely available, there will be many more investment products in RMB for investors to choose, says the report.
"While we expect the RMB to revert to its appreciation trend and gain 0.5% to 1% over the coming 12 months, a spate of depreciation in the first half of 2014 served as a reminder that currency appreciation cannot be taken for granted as a source of return on RMB-denominated investment instruments," cautions Paula Chan, senior portfolio manager for fixed income with Manulife Asset Management.