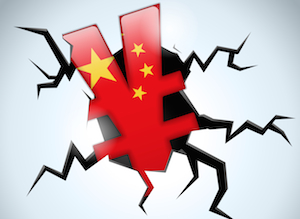 China's August monetary data suggest that China's credit extension has improved somewhat after the sharp decline in July, which could ease concerns on a hard landing. But the rising market volatility and uncertainty could result in a disorderly de-leveraging in Chinese economy and increase systematic risks, says a report released by the Australia and New Zealand Banking Group Limited (ANZ).
China's new yuan loans bounced back to RMB703 billion in August, from the extremely low level of RMB385 billion in July, compared with RMB712 billion in August 2013.
Notably, new loan extension accelerated significantly in late August, and the "big four" state banks issued RMB110 billion in the last week of August, compared with RMB140 billion in the first three weeks.
Data suggest that commercial banks increased the size of bank draft discounting to expand balance sheets. In fact, the bank bill financing is short term (less than 6 months) and normally related to working capital loans rather than capital expenditure financing.
In the meantime, the aggregate financing picked up to RMB957.4 billion in August, significantly lower than RMB1.54 trillion in the same period of last year.
The share of off-balance sheet financing activities, including trust loans, entrust loans and undiscounted bank bills, has declined significantly since the beginning of this year. This reflects the continuous de-leveraging of shadow banking activities due to tightening regulation and weak property market.
The M2 growth slowed further to 12.8 year-on-year in August, down from 13.5% previously. This is the first time since March that the M2 growth came in below central bank's target level of 13%.
As the demand for credits in the private sector is still soft, Chinese authorities will maintain proactive fiscal policy and are likely to roll out another round of pro-growth policies, predicts ANZ.
China Railway Corporation already announced that the total railway investment is planned to increase 20% year-on-year to RMB800 billion this year, and the company has secured sufficient credit line from commercial banks already.