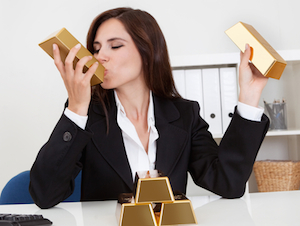 The Shanghai Gold Exchange, the biggest physical bullion bourse in the world, announced that an international gold trading board is officially launched in Shanghai Free Trade Zone (FTZ) yesterday.
The bourse launches three RMB-denominated physical bullion spot contracts of 100 grams, 1 kilogram (kg) and the bigger London gold delivery bar weighing 12.5 kg to attract overseas investors.
The mechanism is similar to the Loco London Gold, except that the price quoted for spot delivery is in RMB. Notably, offshore investors should deliver the physical gold in offshore RMB, or CNH.
This is a milestone initiative of China's ambition to push forward RMB internationalization, says a research report by the Australia and New Zealand Banking Group Limited (ANZ).
China overtook India to become the world's largest gold consumer last year. While official figures are not available, Mainland China's net gold imports from Hong Kong alone reached RMB1,108 tonnes in 2013, almost doubling 532 tonnes in 2012.
In the meantime, China's domestic gold production was only 430 tonnes in 2013, reflecting China's high demand for gold in global market. From this perspective, linking RMB and gold is perfect to promote the use of RMB globally.
At the early stage, the gold delivery derived from the international board will be restricted between FTZ and offshore market, reflecting that China takes a cautious step on capital account openness.
The total gold trading volume in Shanghai, including Shanghai Gold Exchange and Shanghai Future Exchange, increased rapidly in the past few years, and was about 30% of that in Comex in 2013.
The "China price" will have bigger impact on global gold prices over time with rising trading volume in Shanghai, ANZ predicts.
Technically, the introduction of the gold international board will likely narrow the onshore to offshore gold price spread. However, as the gold in the FTZ cannot be delivered to onshore market, the price spread between onshore and offshore markets could widen when there is a supply shock in the onshore market, such as during the Chinese New Year season, says the report.