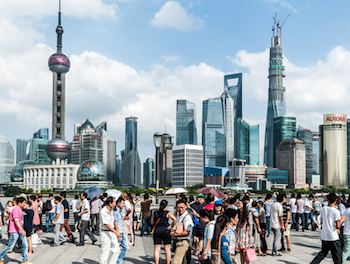 The upcoming September data release in China will likely show a tentative improvement in real economic activity, but unlikely be strong enough to prevent full third quarter growth from falling to 7.1%, adding pressure on the government to further intensify policy support, predicts a report written by UBS AG economist Wang Tao.
A 7.1% quarterly reading will be the lowest for China since the first quarter of 2009.
August's unfavorable base effect should have worn off in September, as both official and HSBC purchasing managers index (PMI) were unchanged from the previous month.
Mirroring this, power generation picked up slightly in the first 20 days of September, even though crude steel production stayed soft.
Specifically, Wang Tao says industrial production growth may improve from August's 6.9% year-on-year to around 7.9% in September. Exports is likely to pick up to 14% in September, boosted in part by last year's low base. Import growth may still remain low at 2% growth.
Fixed investment is still weighed down by ongoing property downturn. Given a still huge inventory overhang, property developers also likely stayed cautious, further dampening property investment growth rebound. Wang Tao estimates that September fixed asset investment growth will stay soft at 14% year-on-year, dragging down its year-to-date growth rate to 16.1%.
Lastly, UBS sees September's consumer price index at a muted 1.8% year-on-year, and producer price index at a decline of 1.7%. China's total social financing (TSF) is estimated at about RMB1.2 trillion in September, with new RMB loans at RMB700 billion, pointing to a lower overall credit growth of 15%.
All these mean the government may announce more "targeted easing" or "fine-tuning", including a lowering of first mortgage down payment requirements, acceleration of key infrastructure projects, and stronger push-through of growth-friendly reform measures.