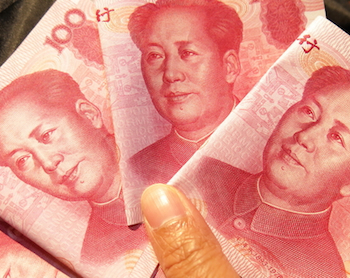 China's freshly released credit data shows that new loans have recovered to the normal level due to the ongoing targeted easing policies, but the de-leveraging of shadow banking activity continues, says a research report by ANZ's chief China economist Liu Li-Gang.
China's new RMB loans picked up to RMB857.2 billion in September, above market expectations. It was also higher than the RMB702.5 billion in the prior month and RMB787 billion in September 2013.
China's new loans' recovery back to a normal level probably reflects the ongoing targeted easing by the People's Bank of China (PBoC).
But the aggregate financing still remains lukewarm, at RMB1.05 trillion in September, compared with RMB1.4 trillion last September. This suggested that the de-leveraging of shadow banking activity continues.
The share of the off-balance-sheet financing dropped to about 18% of aggregate financing in the first three quarters of this year, reaching the lowest level of since the fourth quarter 2012.
China's M2 growth edged up to 12.9% year-on-year in September, versus 12.8% in the previous month. The pickup in M2 growth reflected that recent monetary policy easing measures, such as RMB500 billion liquidity injection to major commercial banks through Standing Lending Facility (SLF), have taken effect, says the report.
China's total foreign reserves unexpectedly declined to US$3.89 trillion at the end of the third quarter, from US$3.99 trillion in the second quarter, against market consensus of US$4 trillion.
It appears that China's central bank have sold U.S. dollar reserves, reflecting the PBoC's intention to reduce its foreign reserve assets.
This seems to have led to a stronger RMB and widening spread between onshore and offshore RMB exchange rate. The RMB exchange rate could become more volatile looking ahead.
Overall, China's monetary data suggested that shadow banking activities have been diminishing amid property weakness, and the genuine demand for credits still remains soft.
Looking ahead, ANZ says it thinks that China could further ease monetary policy, and the possibility of a 50 basis point cut of the reserve requirement ratio (RRR) or even a 25 basis point cut of policy rates still remains.