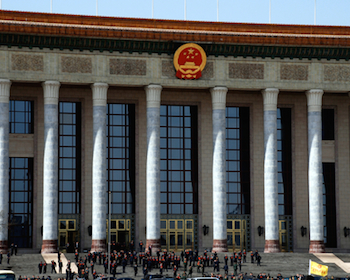 The Communist Party of China (CPC) will hold its 4th Plenum on October 20 to 23, and is likely to introduce a series of reform measures that will have significant impact on the Chinese economy and society in the coming years, says a BofA Merrill Lynch Global Research report.
The 4th Plenum is supposed to wrap up a political movement for power consolidation and to officially start institution building by featuring "ruling the country by law".
Having announced the completion of its "mass-line" campaign, the party will take the chance to celebrate its success in its campaign against corruption, though we believe the party will continue the intensity in rounding up corrupt officials in coming months.
There is also the need for successfully launching the Shanghai-Hong Kong Stock Connect program this month. BofA Merrill expects Beijing to introduce a series of easing measures in coming weeks.
There are still many uncertainties regarding the preferences and style of the new leadership, but President Xi Jinping and his team of elites have held much control of the nation not seen since the days of Chairman Mao.
Many view such control and authority as necessary for pushing any reforms in China. President Xi has at times called on the party to respect China's constitution, and these new leaders do have a practical approach in improving China's backward judiciary system.
After a "lost decade" due to a fragmented leadership in 2003 to 2013, BofA Merrill says it believes the new leadership headed by President Xi offers a real chance for serious reforms in coming years towards rule of law and economic re-balancing.
The bank expects the 4th Plenum to center on four themes:
1, Judicial reforms with focus on separating courts from local governments and professionalizing judges;
2, Hukou and land reforms with emphasis on providing farmers better protection of land ownership rights and allowing farmers to keep land when obtaining urban Hukou;
3, Party organization reforms by creating a more independent party discipline inspection system;
4, Fiscal reforms including creating a more transparent and accountable budget making process and making local governments more responsible for their debt.
Among them, judiciary reform is crucial for China's financial markets. First, despite China's high economic growth and some strong fundamentals such as the massive forex reserves and low inflation, valuations of China's financial assets (especially stocks) are on average cheaper than those in similar emerging markets such as India and Brazil.
One major factor behind the discount on valuations is that global investors perceive China as a nation lacking the "rule of law" and imperfect protection of property rights.
Second, inside China, many people recognize the key risk to China's long-term economic growth and social stability is the widening gap between the existing rigid political system and the newly economically empowered middle class which, increasingly equipped with access to internet, mobile phones and social media, has been seeking more accountability from the government.
Successful judicial reforms are preconditions for other key reforms such as state-owned enterprise privatization, land ownership reforms, and political reforms. For most domestic and global investors, only successful reforms could re-rate undervalued Chinese stocks, says the report.