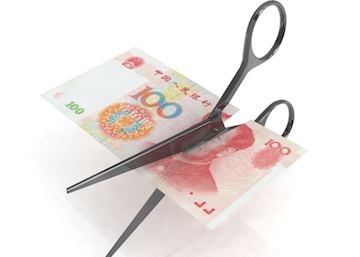 With China's economy facing a difficult time ahead and targeted easing measures failing to revive growth, Standard Chartered Bank says it now expects a broad interest rate cut in the fourth quarter by China to meet the official growth target this year, according to a research report issued by the bank.
China's economic growth slowed in the third quarter after a tentative stabilisation in the second quarter. Official GDP growth slowed to 7.3% in the third quarter, the lowest level since the first quarter of 2009.
This is in line with weaker growth momentum in industrial production (IP) and fixed asset investment (FAI) during the quarter. The housing sector remains the biggest drag on the economy, and credit growth is muted.
Standard Chartered says it believes the worst point has not yet been reached. Real activity indicators suggest that the economy has slowed more sharply than the official data indicates.
With key leading indicators showing no signs of stabilization, it believes China's economy faces a difficult time ahead. Further policy loosening is needed to stem the slide.
A broad bank reserve requirement ratio (RRR) and interest rate cuts have been effective in lowering lending rates in previous economic cycles, as they send a clear signal to the public.
But because an RRR cut seems to have been politicized, Standard Chartered now expects the People's Bank of China (PBoC) to cut the one-year deposit rate by 25 basis points in the fourth quarter, and another 25 basis points in the first quarter next year.
The PBoC has used easing measures including targeted cuts in the RRR for rural lending; targeted liquidity injections via re-lending and new policy tools such as Standing Lending Facility (SLF) and the Pledged Supplementary Lending facility (PSL); as well as reductions in its open-market-operation (OMO) rate in recent months.
But these measures have been ineffective. The PBoC has guided interbank rates lower by reducing its repo rate since the end of July, but the actual private lending rate is not falling. Rising non-performing loans are pushing the credit premium higher.
In addition, there is no clear historical relationship between interbank funding costs, the PBoC repo rate and actual lending rates to the real economy.
Particularly during times of economic difficulty, the additional credit premium typically outweighs lower funding costs. Therefore, the PBoC needs to introduce broad-based easing measures aimed at lowering funding costs in the real economy and averting an even sharper economic slowdown.
The bank still forecasts that GDP growth will be 7.4% this year, as momentum accelerates to 7.5% in the final quarter in 2014.