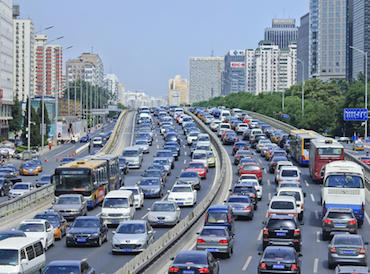 China's upcoming October data release will likely show that real economic activity has settled down at a mild pace. Despite a tentative stabilization, the feeble organic growth momentum still entails additional policy supports, says a research report by UBS AG.
The growth of October industrial production has likely stayed flat. China's official PMI weakened from 51.1 in September to 50.8 in October, while HSBC PMI posted a higher flash reading mainly on help of a stronger employment. Both PMIs show softer production and new orders, indicating weak momentum of manufacturing activity.
Meanwhile, crude steel production sped up during the first 20 days in October, probably reflecting advanced activity ahead of production cut during APEC meeting. China's industrial production growth may have stayed flat at 8% year-on-year in October.
Headline exports have likely slowed to a solid pace. While the U.S. and European business sentiment has both weakened lately, the underlying demand for China's exports have likely stayed solid in October while demand in future months may be under pressure.
In addition, October export growth may be over-stated again due to the re-emergence of over-invoicing in some exports, which the Chinese authorities have started to look into only later in October. October export growth may have grown 9%, and import growth may be boosted slightly due to some re-stocking and a small rebound in some commodity prices in October.
Fixed investment growth will be tepid with base effect driving up headline growth of property activity. Going into October, transactions in the 41 cities have narrowed year-on-year decline with sequential improvement.
This, together with a low base last year, may help Chinese property sales narrowing its decline to single-digit zone. Property new starts and investment may also be boosted by low base effect, though the underlying momentum should have remained soft under inventory overhang and likely fading contribution from social housing, for which the annual target has already been met.
Meanwhile, both fundamentals and base effect would work in favor of infrastructure investment, but against manufacturing investment. October's fixed asset investment growth likely have stayed tepid at just below 14%.
Inflation likely stayed weak, with consumer price index (CPI) inflation edging up to 1.8% in October, and a steeper producer price index a decline of 2.2%.
Credit growth may have continued to roll down, predicts the report. New RMB loans likely totaled RMB550 billion, compared with RMB506 billion one year ago. Total social financing may reach RMB800 billion, down from RMB865 billion one year ago.
However, this slowdown needs to be interpreted cautiously, as the continued rapid development in shadow credit not included, leading to under-estimation of total credit expansion.