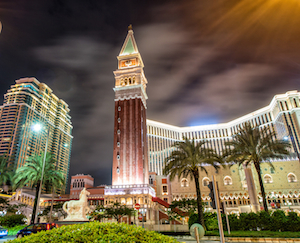 The persistent weakness in the VIP business in Macau means its gaming revenue growth may stay flat for 2014, and may decline during 2015, estimates Fitch Ratings.
The weakness may persist through the first half of 2015, until Galaxy Entertainment and Melco Crown open the Galaxy Macau expansion and Studio City, respectively, and when VIP business recovers.
If assuming largely flat sequential growth, Macau's gaming revenue could see a 15% to 20% year-on-year decline through the first half and about a 5% decline in the second half next year.
But that assumption could be overly conservative if VIP business bounces back to recent historical averages of around 18 billion Macau Pataca per month since 2011. That compares with about 15 billion Macau Pataca since June 2014.
Fitch says the VIP rebound is unlikely as VIP positions relative to 2013 and earlier in 2014 were reduced. General macro issues plaguing China and the Chinese government's crackdown measures will also put sustained pressure on the VIP segment, not to mention competition from other places such as the Philippines.
Fitch says it remains favorable on Macau for the long-term, as Macau and the greater China markets remain under-penetrated on the whole. Gaming revenue growth will be driven by new supply and infrastructure development. The Chinese economy will also continue to grow relatively rapidly, which will provide an anchor for mass market demand.