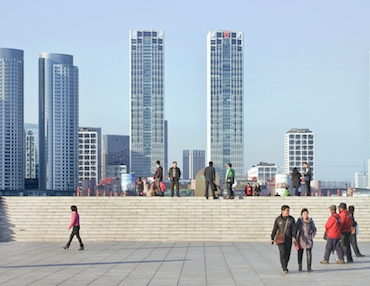 Despite recent property market deterioration, new housing prices in China's eight major cities' central districts grew at 14.79% compound annual growth rate during the past eight years, according to the findings of a new report jointly released by the Peking University-Lincoln Institute Center for Urban Development and Land Policy and the Hang Lung Center for Real Estate Tsinghua University.
From 2006 to the third quarter of this year, new housing prices in central locations in Beijing, Shanghai, Tianjin, Shenzhen, Chengdu, Dalian, Wuhan and Xi'an increased a total of 223% based on a new price index launched by the two academic entities.
The findings show that residential properties in central locations in China's major cities remain resilient while the current market slowdown may mostly affect smaller cities and areas in city outskirts.
Property market conditions nationally are more concerning. Reuters reported that China's national average home prices declined 2.6% year-on-year in October, and China's National Bureau of Statistics said new home prices in 67 of the 70 cities saw price declines year-on-year in October.
Specifically, Beijing and Shanghai's new housing prices grew at 19.7% and 18.18% compound annual growth rate during the past eight years, the highest among the eight cities, says the report.
Xi'an and Dalian's new home prices expanded at the slowest pace of 9.4% and 10.52% annually during the same period.
The index showed overall new housing prices in the eight cities declined 1.74% during the third quarter this year, the second consecutive quarterly drop.
But compared with the same period last year, new housing prices declined slightly in Chengdu, Dalian and Xi'an, while the other five cities still showed year-on-year price increases.